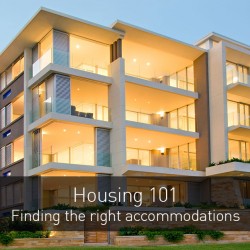 If you're on assignment as a travel nurse, one thing is for certain: you are going to need a place to stay. Traditionally, travel nurses are offered housing either by their employing healthcare facility or through their recruiter. The results are mixed – you can put up with anything for a short while, but if you travel often and your home is one the road, you want to make sure you live somewhere that you can call home.
This week we're going to look at a few methods for finding your own housing while on assignment. By opting out of provided housing, you'll not only save money, but also get to choose the location and type of housing you can come home to.
In no particular order, here are some options for finding the best housing out there:
Apartments.com
If you're looking to rent an apartment, particularly one in a complex, check out Apartments.com. As it is the largest site for apartment listings on the web, they have a slick interface and ample listings to choose from. Many complexes and communities list on here, so if you're interested in the amenities that come along with these types of developments, you're sure to find something here.
Craigslist
Craigslist is the digital classifieds section, so take that for what it is worth. There are a lot of great apartment listings on this site, and unlike Apartments.com, you're more likely to find landlords listing units individually. This is good if you like older apartments, divided homes or want to negotiate shorter term rentals. But be on the lookout for fake listings, scams and unresponsive listings. Once you have used Craigslist for awhile, the bad posts will be easy to spot. Keep your eye out for landlords that list their phone numbers, then give them a call and work with them directly over the phone.
Craigslist is always infamously known to have scammers lurking on the site, so follow common sense precautions when using it. Never meet anyone alone or after dark, and always leave if you don't feel safe when you arrive.
AirBnB/Homeaway
These "couchsurfing" sites have turned into legitimate options for finding places to stay, and have become lucrative investments for those that list their properties here. The advantages to these sites is that you can usually work out staying at one of these locations for a longer period of time. This is great for those 8 to 13 week contracts where you know you'll pretty much be in and out. For the property owner, this is a huge benefit because they don't have to clean or deal with turnover every weekend when someone leaves. Use that to your advantage to negotiate a better rate. Rather than booking online right away, contact them through the site and tell them what you're doing – you may get a better deal that way. These sites also have an inventory of some pretty cool houses and apartments in desirable locations.
Sublet
If you're using one of the aforementioned sites, especially Craigslist, keep your eye out for sublet options. Especially in college towns or seasonal vacation spots, people are looking for subletters to take over their lease for a short amount of time while they're on vacation or break. Since you may be there for only 2-3 months at a time, being a subletter means you won't be tied down to a contract and can work out a time frame that fits your schedule. Since these people are also likely desperate to find someone to take over while they're gone, you can negotiate a pretty good deal, especially if they are having trouble finding someone to fill in.
 Friend networks
When in doubt, always ask your friends or co-workers to help find you a great place to live. Post something in the breakroom, do a post on Facebook or bring it up in conversation. There are many travel nursing groups on Facebook made up of helpful peers that can be on the lookout for you. Nice people always want to help out, and we find that the more you bring it up in conversation, chances are someone will know someone else who could help accommodate you if they can't do it themselves. Some of the best stories on finding great property have come from word-of-mouth referrals.
Don't Sign Before Seeing
One last piece of advice: Whether you ask your friends for help or simply request as many pictures as possible from the landlord or building manager, it's best not to sign a lease before seeing the place yourself. Ask your landlord if it's OK for you to wait to sign on the dotted line until you've seen the place with your own eyes.
If that's not possible, see if they'll negotiate a clause in the lease that says you're allowed to back out within a specific amount of time if the apartment isn't what they've advertised. It's a great way to protect yourself and feel secure in your decision. Just make sure you have a back-up plan if that apartment ends up falling through!