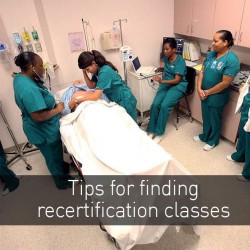 As a nurse, you are most likely trying to find ways to save money and still meet those recertification requirements needed to maintain your professional licensure. Let's look at a few recommendations on how to find recertification classes at a reduced cost or even free to save you time, money, and energy in that search.
Check Coastalhcresources.com! Did you know that Coastal Healthcare offers recertification classes to nurses in the South Carolina area? And better yet, most of these classes are free! Coming up this month, we are offering two classes at our Florence, SC location – a PALS Refresher Class on June 21 followed by an LTACH and Trach Care class on June 22.
RN.com is another great resource to have.  For a one-time fee, you can have unlimited access to any of their courses offered online for an entire year. They have over 180 professionally developed RN courses with 24-hour access each day to take classes at your convenience.  They even have a few free courses for you to try and see if you like it. If you are looking to recertify your BLS, ACLS CPR that is required, check with your local area universities or colleges if there are any health care programs. Oftentimes, if the college is health related, they may offer those classes for a reduced rate.
Nurse.com offers some online CEU's free.  As a travel nurse, the ease of doing online courses and webinars are a plus.  No matter what your schedule looks like, you can always do those courses at your own pace within your allowed schedule, making it less stressful for you to get them completed.
Allnurses.com offers a list of 100 plus free continuing education hours for nurses. They have a variety of topics to choose from.  Why pay for CEU's when you can get enough free to recertify your licensure?
Another option that is often overlooked is professional memberships.  If you are certified in any specialty and a member of a professional organization, review your membership benefits.  Some professional organizations offer newsletters or quarterly magazines which allow you to read the articles, answer questions and turn in for free CEUs.   They will also sometimes have discounts and group rates for opportunities in your area.
Whether you decide to take online free CEU courses or find a local community college with classes to attend, seek out the free classes first to save on money. With all these useful resources, you are bound to find a few great continuing education courses and save money at the same time.