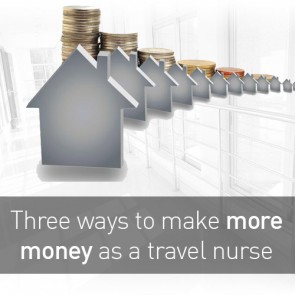 While the compensation for a travel nurse is usually pretty competitive, everyone is always looking for ways to make more money. It is often said that the best way to get more money is start by not spending as much. With that adage in mind, here are three practical (and legal!) ways you can get the most bang for the buck while working on the road.
1. Lower your cost of living
Some people are drawn to the big city, while some crave the warm weather near the beach. Its not surprising then that New York City and Los Angeles are two of the most expensive areas to live in the country. The same can be said for Florida, California and parts of Texas. Assume that anywhere people of all kinds really want to be is where the cost of living index will be higher.
Bankrate has a helpful cost of living tool that lets you see the percentage difference in average cost of living between two cities. You can find it here: http://www.bankrate.com/calculators/savings/moving-cost-of-living-calculator.aspx
So how do you get the best of both worlds? You can start by finding out what you like about the city you're thinking about and seeing if those amenities are available elsewhere. For example, if you enjoy the beach and think you want to be in Miami, FL, check out Wilmington, NC, especially in the summertime. On average, your income can go 13.5% further in the more northern beach town.
2. Avoid Bonuses
Ah, the signing bonus and completion bonus. It's always great to think about what you might do with that extra $1000 or $2000 given to you as soon as your start your next contract. But, because bonuses are taxed at a higher rate, you could be seeing a lot less of that chunk of money than you expect.
It can be worth more to request that the amount be paid to you over the term of the contract as part of your agreed-upon wage. A $500 bonus pays less than a raise of $1.09 per hour when applied over the course of a 468 hour- contract.
3. Find your own housing
One of the "perks" that agencies will give you as part of your contract is housing. However, this agency housing is deducted from your compensation and leaves you with little control over the locations and rate. If you're looking to pocket more money, try to decline the agency housing and use the money to find your own housing in the area.
Find a roommate for your own apartment or move in with a friend in the area, especially if you're only in the location for a finite amount of time. Also, especially if you're working for a hospital in a downtown area, looking further out and adding 5-10 minutes to your commute can save you hundreds a month by avoiding high-rent areas. Either way, make sure you're in control of where your money is spent on housing.
Combine some or all of these tactics and you'll be well on your way to saving hundreds and even thousands per contract! We have lots of jobs on our site from locations all across the country, so take a look and see if you can find one in the right area for you and your budget: FIND YOUR DREAM JOB HERE
– Mindy Milligan