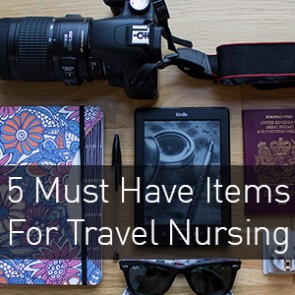 As a travel nurse, you are often far away from the place you call home. Think about your last work trip or vacation – what essential items did you take with you? What did you forget or wish you had?
Dependable Stethoscope
Always carry a dependable stethoscope with you on your assignments. Knowing you have the right equipment with you will make your new job assignment go much smoother. You are then prepared for any clinical assignment and can feel confident about your assessment skills as a nurse.
Waterproof Watch
You never know what type of environment you will encounter on an assignment, so having a waterproof watch with a second hand can be a life saver. Having a watch with a secondhand will ease your assessments for patients when it comes time to give medications, perform a physical assessment, or know when a nursing action is required at a designated time.
Having a reliable watch to help you tell time and the correct time zone is a must.  You're likely to wash your hands all the time so why not make it easier on yourself and bring along a waterproof watch?
Comfy Shoes
No matter what kind of facility you'll be working in, you will likely be on your feet constantly during your shift. Having comfortable shoes to walk in will help you pull longer hours with less fatigue and perform your nursing duties with less discomfort.
Laptop Computer
Having access to your laptop computer can provide you with the ability to communicate through email, social media, and video. It also makes paying your bills, ordering online, communicating, and even watching a movie easier. Being away from the place you call home can be difficult without your friends and family near you. Aside from being a productivity tool, the connections your computer enables are priceless when helping you keep your spirits up when you miss home.
Bedding
Ever stayed in a hotel with scratchy sheets, an uncomfortable pillow, and a thin blanket? Take our advice and bring along your own pillow, favorite blanket, and some of your comfy bedding. Without a good night's sleep, you could suffer fatigue during your nursing shifts, making them feel long and exhausting. Rest, rest, rest!
No matter what you decide your "must haves" are to bring along with you on your travel nurse assignment, remember, it's all about the comforts of home and helping you be successful in your job assignment. The more comfortable, rested, and happier you are taking your new job, the more likely you are to continue taking new assignments and new adventures in this new exciting career option!