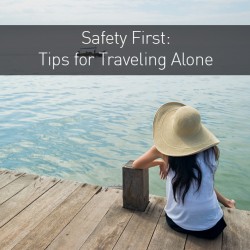 For some, traveling alone can be a way to reconnect with yourself and develop your thoughts, try new adventures and do things on your own terms. It can be empowering to learn more about yourself while exploring a new place.
For travel nurses who take jobs across the country, we know this all too well. But while traveling alone can be freeing, for any solo traveler there are real dangers that you can face. Here are our tips for hitting the open road on your own this summer:
Before You Leave
Research where you're going
Crowdsource your research – this means checking out sites like TripAdvisor and Oyster to see what actual people say about the hotel, house or apartment you're staying in. They will often feature actual pictures of the property and have info about the neighborhood it's in, so you can see which areas seem safe.  If there is limited information available, consider staying in a hotel until you can go see the areas for yourself instead of confirming accommodations site unseen.
Use AirBnb and Homeaway wisely
If you are going to forego housing supplied by your employer and use Airbnb or Homeaway, choose your rental wisely. Only go places with a lot of good reviews. As with everything, if it seems too good to be true, it probably is.
Keep everyone back home informed
Before you leave, give someone back home your itinerary so someone knows where you're planning to go. At least one person who's not traveling with you should have a general idea of where you'll be and when, in case something goes wrong or they need to get in touch with you. Another good idea is to schedule regular check-ins with someone back home, via phone, text or email.
Keep your documents secure
Make sure you have redundant copies all your vital documents. Take pictures and put them on a site like DropBox that you can access from any computer. This includes your passports, state IDs, ticket numbers, reservations, etc. That way if you lose these and your computer, you always have them backed up in the cloud.
How to Pack
Pack light
This one seems easy: pack light. Not only will you be able to move around easier, but you won't draw attention to yourself trying to lug large bags down the street.  If you are traveling in a car across country pack a separate light bag to take in and out of hotels and try to leave the bulk of your items secured in the truck and out of sight.
Hard copy
Always have hard copies of your itinerary and important phone numbers with you at all times. This should include the number and location of your hotels, rental companies, anyone you're meeting and an emergency contact. Don't only have this info on your phone in case it is lost, stolen or damaged.
Carry a safety mechanism
You don't have to have a weapon, but bring something you feel comfortable with.  Mace/ pepper spray (you can't bring on the plane, but you can put in a checked bag) or a whistle all help with self-defense, just in case.
Bring a portable door or window alarm
These alarms are cheap, easy ways to make any accommodation feel safer. Some door alarms can also be a jamb that can make shared bathrooms more private while you shower.
Don't keep all your money in one place
Keep some cash and a card on your person and some in your bag and some back at your hotel. It also helps to separate out multiple credit cards if you have them, just in case of theft.
Bring a selfie stick
For those times when you don't want to hand your camera or phone to someone to snap a pic for you, the selfie stick will be great to have.
Staying Safe
Hotel Keys
If you're staying at a hotel, keep two hotel keys with you, one in your bag and one on your person. This way, if someone steals your bag, you're not locked out.
DND
Always leave the Do Not Disturb sign on your door and the TV on when you leave your hotel room. This can deter thieves, who will think someone is still there.
Only wear one headphone
If you're going to listen to music, make sure you're alert to what's around you. You can also wear headphones with no music on as an excuse for not listening to unwanted conversation.
Getting There
Ground transportation
If you can afford it, arrange a private transfer from the airport when you arrive, especially if you're arriving at night. Try to budget so you can take cabs if you feel unsafe walking. We suggest getting a picture of your cab or Uber's license plate before you get in. Having the license number makes it much easier to track down. Track your cab via Google Maps so you can tell if you're going off route.
If you're driving, fill up your gas tank when it's half full to avoid running low when you're in a sketchy area or a place with no gas at all.  Choose well-lit areas only if you have to stop for gas in the dark and always be mindful of people and things around you.
Watch your bag
Take your bag with you to the bathroom every time, whether it's a bus, train or plane. If you stop to buy anything where your attention is away, put your bag between your legs or in between your body and the counter instead of beside you, or loop it through your arm.
AAA
Having an AAA membership can help if you're going to be traveling by car. They have nationwide roadside assistance and even if you're not a member they will map out recommended routes with safety tips and ratings for FREE if you are already a AAA member and print it all out for you.
Have the right supplies in the car
Sometimes the danger is not having the right supplies if you need them. If you're driving through hot desert-type areas, make sure you have at least a few gallons of water in case of a breakdown.
Meeting New Friends
Drink in moderation
Know your limits. You want to have fun but keeping your wits about you in a strange place will keep you safe. If you get in a situation where you feel alone and unsafe, start telling stories using "we" about your (real or imaginary) significant other.
Don't feel guilty about saying no
It's OK to turn down help with your bags, an invitation to dinner, or a drink from someone you don't know. Don't be afraid to be rude – especially if it helps you feel safer. Just trust your instincts and avoid an uncomfortable situation.
Have fun!
It can be easy to read these tips and get scared of what is out there, but just remember to be alert at all times, then just let the fun come to you. Traveling is one of the great perks to contract nursing and the reason many of us work this job. Enjoy your time on the road this summer!