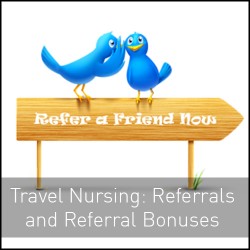 If you are an active travel nurse, you know that most, if not all, recruiters offer a referral bonus. If this is a new concept for you, know that recruiters highly value their nurses and it is in their best interest to hire those most like the ones they currently employ in many respects. This is why you will find recruiters giving a set amount of extra money to referral sources who suggest another nurse for a job. If you try a restaurant you enjoy, you tell others about it and if you know a company does good business, you refer others to give them a call.
At Coastal Healthcare, we believe that the best way to grow our business is by word of mouth. We are committed to connecting with travelers as people first and people like to work with people that they know and trust. As a company we thoroughly enjoy all of the nurses we work with and are constantly on the lookout for other nurses like them. In order to connect with more of these qualified candidates, we offer our nurses a generous $500 referral bonus per referral. There are no limits to the number of referrals that you can send and you don't have to be actively working for Coastal to qualify.
If you would like to refer a friend or connection for one of our many openings, the best way to do so is to use our handy form on the website.
Once you submit their name and information, we will follow up and keep you both in the loop as to their hiring progress. Our bonuses are paid once the referred nurse successfully completes his or her first contract with Coastal.
We have found that our longest lasting and most successful nurses have come from referrals, and in turn those nurses do a fair amount of referring as well. We have found that nurses who begin working with Coastal Healthcare through the referral program are more likely to be loyal and quickly build reciprocal trust with us.
In the travel nursing community, it's often the case that referral bonuses are being underutilized. According to theGypsyNurse.com, and industry blog, one of the reasons is that it can be misperceived that the bonuses come out of the bill rates and will ultimately lower the travelers pay. While we can't vouch for every agency, we can tell you that it's definitely not the case with Coastal Healthcare. Our annual budget includes accounting for referral bonuses and factor into our regular overhead burden instead of directly coming from the pay package.
As always, our recruiters can answer any questions you have about referring a nurse or the bonuses themselves. Just ASK US for more details. Call today 866-877-2762