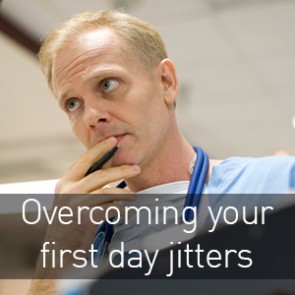 Anytime you start a new job it can be nerve-racking. Starting a new travel nursing job can be even more anxiety producing on the first day. Imagine, you're in a new place to live, new community, new hospital, new coworkers, new policies and procedures, new computer documentation and you don't know where everything is yet. A normal person would be nervous, but you as a travel nurse, are expected to perform exceptionally and make it look easy. Let's look at 5 ways to reduce your stress and enjoy your first day on your new travel nursing adventure.
1. Get Plenty of Sleep the Night Before.  You can never start a first day and be successful on little or no sleep. Imagine how you feel after a sleepless night – You might feel cranky or a little out of sorts and not yourself. Everything is twice as hard when you are tired. Take a nice relaxing evening, and go to sleep earlier than normal so you can start your first day rested and ready to take on the world.
2. Familiarize Yourself with The Hospital. Take some time the day before or even a few days before you start your new job and go visit the hospital. This will help you familiarize yourself with how to get there, possible traffic issues, parking options, where the facility entrances are and anything else that might hinder you from getting to your shift on-time. The more familiar you are with your surroundings and potential obstacles, the less stress you will feel when you arrive on your first day to a new place and you'll be on-time. Remember to keep your shift in mind, consider driving there the day before as if you were going to work to be able to time the traffic and know if you are leaving at a good time to get to your shift.
3. Eat a Stress Reducing Breakfast.  Seek out whole grains and banana for breakfast. Eating breakfast first thing will help keep you calm before you arrive for your first day on the job. We all know that coffee is pretty much essential, but try to limit caffeine intake to a manageable level as it may increase your nerves and jitters.
4. Plan for Lunch.  If you're unsure if you will have enough time to eat elsewhere, plan to pack a healthy lunch. Packing a lunch will also safeguard in case there are not options for purchasing food. Be sure and pack an easy to eat lunch since you don't know how much time you will have or if there is a designated place to take a break. Don't skip lunch as this could potentially cause you to become more tired and less focused on your new job duties.  It is also a great idea to pack something extra to share with your new coworkers, like a bag of candies or mints. Who doesn't love a treat?
5. Dress to Impress.  Plan a few days ahead of time what you will wear for your new job. If you are unsure what is required, ask questions a few days ahead so that you can plan to wear the appropriate attire. Make sure your clothes whether scrubs or business attire are clean and wrinkle-free. Plan time in your routine to take a shower; it will help you feel refreshed and ready to take on the new day and the new job.
Take a deep breath and think positive. You're going to do great, you got this!