Today there are many factors contributing to the ever-growing nursing shortage. The American Nurses Association predicts that 1.1 million new nurses will be needed by 2022 to fill the gaps created in the workforce by nurses approaching or at retirement age. It is predicted there will be a whopping 690,000 unfilled nurse jobs by 2022 based on the numbers of graduates expected and those that will be retiring.
With this looming in the future, nurses can expect potentially longer work hours under stressful conditions which can lead to injuries on the job, dissatisfaction, and fatigue. Hospital budgets are already strained. Increased access to healthcare with The Affordable Care Act increases the number of patients requiring care. All of this contributes to the nursing shortage, making it more difficult for a nurse to find super high paying positions despite the obvious need for more nurses.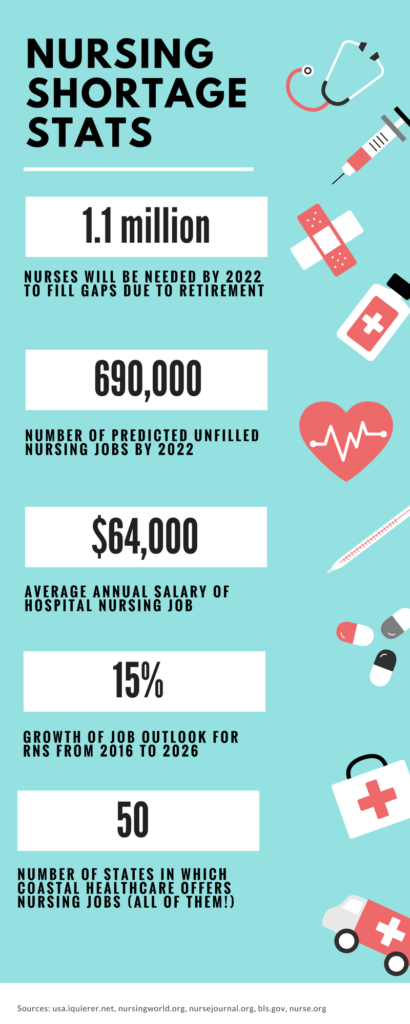 More recently, the increase in large hospital chains merging and cutting thousands of jobs is making it more difficult for nurses to find higher paying positions in a hospital environment. Nurses are opting to seek other job openings in other areas of nursing such as clinics, rehab centers, in-home care of patients, and other opportunities that may require more administrative level of nursing.
Hospital jobs pay a median wage of $64,000 per year according to the Bureau of Labor Statics, however, other nursing jobs outside of the hospital environment don't typically pay as much.  Hospitals are also finding more empty beds with new technology emerging such as telehealth and more in-home nursing. With that, hospital system revenues drop, impacting the bottom line of financial resources available to pay labor shortage in the hospital.
A better option
Many nurses are opting for higher paying positions such as travel nursing across states and from hospital-to-hospital. Hospitals may opt to work with an agency or vendor management service to obtain travel nurses to fill the gaps rather than on-staff nurses due to the high cost of benefits required for full-time staff along with pay.
Travel nursing can come with its own set of challenges such as new faces, new policies, different cultures, and functioning adequately in a new environment on a weekly basis. Travel nurses usually feed off of these challenges and find them more exciting than stressful. For many, the perks of travel nursing such as flexibility, opportunity to learn new things, make new friends and travel to different parts of the country outweigh those challenges.
Hospital budgets continue to be a factor in filling the open nursing positions; however, many hospitals are seeking to be creative in how they hire and fill positions. Many are offering increased bonus incentives, loan forgiveness, and additional educational assistance in hopes of enticing nurses to work there, however, they still do not increase the bottom line pay.
RN Job Outlook: Positive!
There may be good news, though. According to the Bureau of Labor Statistics, the job outlook for registered nurses from 2016 to 2026 is growing at 15 percent, which is much faster than the average job field. This is based on multiple reasons, including the new focus on preventative care, increased rates of chronic conditions, and a demand for healthcare services to be provided to the baby-boom populations as they continue to live longer and live more active lives later in life.
The question remains, why is it harder for nurses to find higher paying jobs in the hospitals? Many hospitals including those in Northern California are paying per diem nurses a higher wage than their own full-time staff. "Per Diem" means nurses who work by the day or as needs present themselves; many can work longer shifts and receive much higher pay because of overtime pay and shift differentials.
But, the hospitals don't provide benefits to the Per Diem nurses beyond higher wages. Hospitals are opting to pay higher hourly wages without the need to provide all the added benefits such as health insurance, paid vacation, and other benefits. If you are a traveling nurse, it is becoming more important to work with a recruiter who can help provide basic benefits when hospitals can't.
The nursing shortage is going to continue to increase. The restraints on hospitals to control tight budgets along with providing quality care, ever increasing pharma costs and government regulations make it difficult to increase the overall pay for nurses despite the shortage that is looming in the future.
As a nurse or someone that may be considering nursing as a career, you may have to ask yourself what is more important to you in a job – the stability and benefits associated with a traditional hospital job, or the higher pay and flexibility that you may seek in a per diem position or travel nursing job. Nurses have been fighting for equal pay for years, it doesn't appear that this issue will ever fully resolve itself. Rather, nurses are finding creative ways to work around it and take on a whole new adventure in nursing to reach that high pay that so many strive to obtain.
If you are interested in a more fun, exciting and adventurous approach to your work, consider working for us at Coastal Healthcare! We have travel nursing jobs all across the country, including desirable and exotic locations within the 50 states. Contact a recruiter today to learn more.
References
http://usa.inquirer.net/8427/us-headed-worst-nursing-shortage
https://www.nursingworld.org/practice-policy/workforce/
https://nursejournal.org/community/could-hospital-jobs-be-getting-harder-to-find-for-nurses/
https://www.bls.gov/ooh/healthcare/registered-nurses.htm
https://nurse.org/articles/highest-per-diem-pay-for-nurses-in-california/