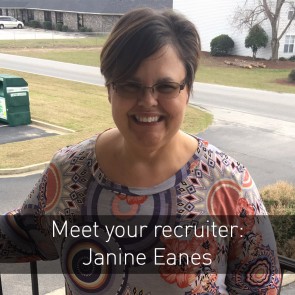 When you work for Coastal Healthcare, you are partnering with a dedicated team of recruiters and support staff that care about you and helping you advance your career. We also know what an adventure travel nursing can be, so we work to provide you with the exciting lifestyle you demand along with the best jobs and benefits to support that.
Each week, we are going to be featuring one of our fantastic recruiters so you can get to know our team a little better. We feel it is important for you to have an established relationship with your recruiter – this is first step!
Name: Janine Eanes
Where are you from? I grew up in a small town outside of Erie, PA.
What was your favorite food? Pizza
What is your favorite song? Live Like We're Dying – Kris Allen
What's your favorite indoor/outdoor activity? Bicycling. I love riding my bike.  I have done several centuries (100 miles in a day)
What is your favorite season and why? Spring – everything is new.
If you could live anywhere, where would it be? Hawaii
What is your favorite vacation spot? Walt Disney World
What motivates you to work hard? The feeling of achievement.
What is your favorite thing about your career? Meeting people.
What is your proudest accomplishment? Beating cancer.
What is your favorite game or sport to watch and play? Football. Go Steelers!
If you could only eat one meal for the rest of your life, what would it be? Peanut Butter Sandwich
Janine's Top Nursing Jobs!
TELE, MED/SURG/ICU/NICU/PCU and CATH LAB RN's needed in Eastern, PA for EPIC Conversion – 13 weeks – Excellent Pay
CVOR – RN  needed for ALBUQUERQUE, NEW MEXICO – Competitive Pay
ICU – RN – Lancaster, CA – Great Pay