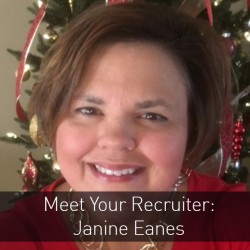 When you work for Coastal Healthcare, you are partnering with a dedicated team of recruiters and support staff that care about you and helping you advance your career. We also know what an adventure travel nursing can be, so we work to provide you with the exciting lifestyle you demand along with the best jobs and benefits to support that.
As our company continues to grow, we are constantly adding new, talented recruiters that are eager to begin working with you.
To get to know them better, we are going to be featuring them in our articles so can learn more about what makes them tick and see what you have in common. We know it's important for you to have an established relationship with your recruiter – this is first step!
Janine Eanes
What is your favorite childhood memory? I grew up on a farm. I think it is more  of a feeling than a memory – Feeling carefree, adventurous and safe.
What is at the top of your bucket list? Visit Hawaii.
Who was your first celebrity crush? Will I sound old if I say Donny Osmond? Of course I was VERY young at the time.
Who had the most significant impact on your life? My Dad. He taught me some very valuable lessons. I definitely get my work ethic, love of cooking, conversation and wacky sense of humor from him. He died when I was 10 but even through his not being there I learned independence, determination and how to make the best out of situations.
What is the best compliment you ever received? I had a college professor once say "Janine is a better tonic on a cold winter morning than a glass of fresh orange juice."
The one thing you know now that you wish you had known as a kid?  Not to throw darts at a wasp nest. Some things you have to learn the hard way!
On a scale of 1-10 with 10 being the highest and 1 being the lowest, rate your driving skills! I think it depends. I am pretty cautious so on the roads I would say a 9 but if I were in NASCAR a 1.
Describe yourself in a single sentence! I am the "sturdy girl" sized version of Katie Couric and Martha Stewart rolled into one.
Are you a fan of any sports team? I grew up in Pennsylvania so I am a life-long Steelers fan!
What is your favorite way to pass the time? Bicycling
Name one interesting or unique fact about yourself: I played keyboards in a band called "Jammer". We played at the Star Light Inn every weekend.
Check out our list of open positions here, and contact Janine if you find one that suits you!
1-866-877-2762 (Office)
1-866-992-7144 (Fax)
mmcdaniel@coastalhcresources.com