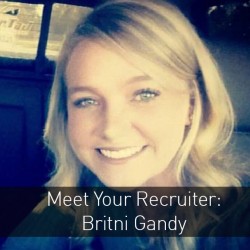 When you work for Coastal Healthcare, you are partnering with a dedicated team of recruiters and support staff that care about you and helping you advance your career. We also know what an adventure travel nursing can be, so we work to provide you with the exciting lifestyle you demand along with the best jobs and benefits to support that.
As our company continues to grow, we are constantly adding new, talented recruiters that are eager to begin working with you.
To get to know them better, we are going to be featuring them in our articles so can learn more about what makes them tick and see what you have in common. We know it's important for you to have an established relationship with your recruiter – this is first step!
Britni Gandy
What is your favorite childhood memory? Living beside my cousins! I always had someone to play with growing up.
What is at the top of your bucket list? I really want to go to Bora Bora.. it looks gorgeous there!
Who was your first celebrity crush? Probably Aaron Carter lol… Things have definitely changed since then.
Who had the most significant impact on your life? My husband. Without his love and support I wouldn't be the person I am today!
What is the best compliment you ever received? That I was a really good worker and a fast learner. I try my best to be the best I can be.
The one thing you know now that you wish you had known as a kid? ALWAYS LISTEN TO YOUR PARENTS- Man, they were definitely right!
On a scale of 1-10 with 10 being the highest and 1 being the lowest, rate your driving skills! 10 DUH—My friends and family would probably disagree
Describe yourself in a single sentence! I am fun, loving, caring, and outgoing!
Are you a fan of any sports team? South Carolina Gamecocks!
What is your favorite way to pass the time? Shopping
Check out our list of open positions here, and contact Britni if you find one that suits you!
www.bgandy@coastalhcresources.com
1-866-877-2762 Option 1 (Phone)
1-866-992-7144 (Fax)