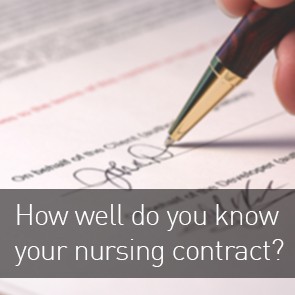 Entering into a traveling nurse contract can be intimidating and confusing if you don't know what to look for before you sign on the dotted line. At Coastal Healthcare Resources, we feel that knowing the expectations and potential pitfalls of a contract will help you confidently take an assignment and fulfill your obligations successfully. Here are several aspects of your contract that you should examine before you sign.
Pay
One of the most important sections of your travel contract is the part about pay. During your initial negotiations with us or any recruiter, you are quoted a pay package based on many different choices. Your pay package is comprised of an hourly rate and possibly some stipends for different reimbursements.
It is important to read your contract thoroughly to be sure you understand how your pay is calculated, how often you will be paid and any adjustments that might be made. Always ask for a breakdown if there is anything unclear in your contract, especially when it comes to your money.
Cancellation policies
You never know when life will throw you a curve ball, so familiarize yourself with the terms and stipulations of a full contract cancellation versus an individual shift cancellation.
Know the difference between a missed shift and a cancelled shift. A missed shift means you, the nurse, cancelled the shift for a valid reason, such as illness. A cancelled shift is one that the hospital cancels, for example if there is a low patient census or otherwise.
A cancelled contract is just as it sounds. The hospital may decide to cancel your obligation to them for any number of reasons. In most cases they are required to give a workable notice unless it is cancelled for "cause."
Either of these scenarios can have an impact on your financial bottom line. There are usually penalties associated with a nurse cancelling a contract, especially without notice.
These items should be covered in your contract, but when in doubt ask questions. You don't know what you don't know, so be sure to ask.
Fees
Review the contract for any fees that may occur for any type of missed shift or cancellation of your contract because a personal situation. Ask about any "guaranteed hours" in your contract. Some contracts will add an additional clause to hold the traveling nurse accountable for hours/shifts missed.
You may be given the option to make-up a shift that you missed. However, if unforeseeable circumstances cause you to have to cancel or withdraw your contract obligations, you can come to us and we can work with you to resolve the issue.
Communication is the key to resolving any situation. You may not have to withdraw your contract.  We mediate between travel nurses and employers all the time to accommodate emergency leave. In some cases, the hospital may allow you a break to handle your situation and return with adding on the remainder of the weeks missed to the end of your contract to make-up for the time commitment made.
Reimbursements
In many cases, we as an agency can opt to reimburse you for obtaining a nursing license in the state in which you are traveling to. However, there may be additional fees that you may have to pay to get that license such as filing fees, fingerprinting fees, etc. Some of these fees may not be reimbursed, so it is best to plan for miscellaneous expenses prior to accepting an assignment.
All payments, reimbursements included, are paid for by the bill rates, so some assignments will allow more reimbursements than others. Some can pay for things like travel to and from an assignment, certifications and other CEU classes, additional lab work or testing requirements.
Again, communication with your recruiter is key. Often, the pay rates presented will be based on what reimbursements are needed. Remember everything comes from the same "bucket," but reimbursements are usually non-taxed.
Insurance
Review your contract to get acquainted with the insurance that is offered. Often, you might find that you can obtain medical insurance coverage on your own far cheaper and take the insurance stipend that may be offered.
Coastal Healthcare Resources can offer an insurance stipend of $500.00 per month if you decide to get insurance separately. Anthem Blue Cross Blue Shield is another option to consider as it covers all 50 states to allow you coverage as you travel from assignment to assignment.
If you decide to opt for your own insurance, whether it's through us or direct with a provider, ask questions. Know when the coverage starts and stops and be aware of the wait period before coverage begins. Find out how long you are covered with insurance between assignments, if at all. You have a right to know so you can make the best possible decisions.
Start and End Dates
Pay close attention to the start and end dates of your contract. Verify that any time off requests are made during negotiations and written into your contract. Planning ahead is always best to avoid complications.
If you are planning to take off for an extended period of time, it is best to plan for that between assignments. Taking time off during an assignment can extend the end date, so be sure to pay close attention to the dates you are requesting and agreeing to.
Becoming a traveling nurse can be fun and exciting yet intimidating at the same time. Getting acquainted with your nursing contract is the first step to your new life of freedom and traveling. The more you know your contract, the less confusing this process will be and you can focus on completing your assignment and growing your career. Call us today and we will gladly answer any questions you have.