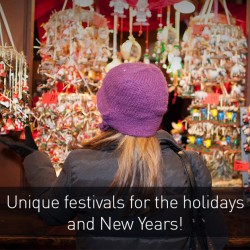 Throughout America, millions are preparing for the holidays by getting a frozen turkey, hauling a tree home on top of their car or preparing for an all-out assault on the big box retailers on Black Friday. You could even call these the new holiday traditions – and we seem to take part in them every year. This year we are going to focus on some different ways the holidays are celebrated throughout the country and how you can make the most of the season.
As travel nurses, we have the unique ability to spend our holidays in different places each year and experience all the country has to offer when it comes to our celebrations. Let's take a look at some of those, and hopefully give you some inspiration for holiday travel this year or next.
Christkindlmarket Chicago
Ever wanted to enjoy the German Christmas traditions, but don't want to go all the way to Bavaria? Chicago may have the next best thing! During the holidays, Chicago's Daley Plaza gets transformed into a German-style Christmas market inspired by the original in Nuremburg, Germany. Just like markets in Germany, Christkindlmarket Chicago will feature holiday shopping, traditional German food and drink, live entertainment.
Nuremberg Christmas Market
Speaking of Nuremberg, if you are lucky enough to actually visit Germany over the holidays, this is one of the best holiday festivals in Europe. The original Christkindlmarket brings in nearly 2 million visitors each year to shop 180 stores in wooden stalls. They sell traditional food and Christmas decorations like ornaments, tree toppers and lots of food – including Nuremberg roast sausages and mulled wine. The trademark souvenir from the event are Nuremburg Plum People, which are miniature figures made from prunes. And yes, you can eat them!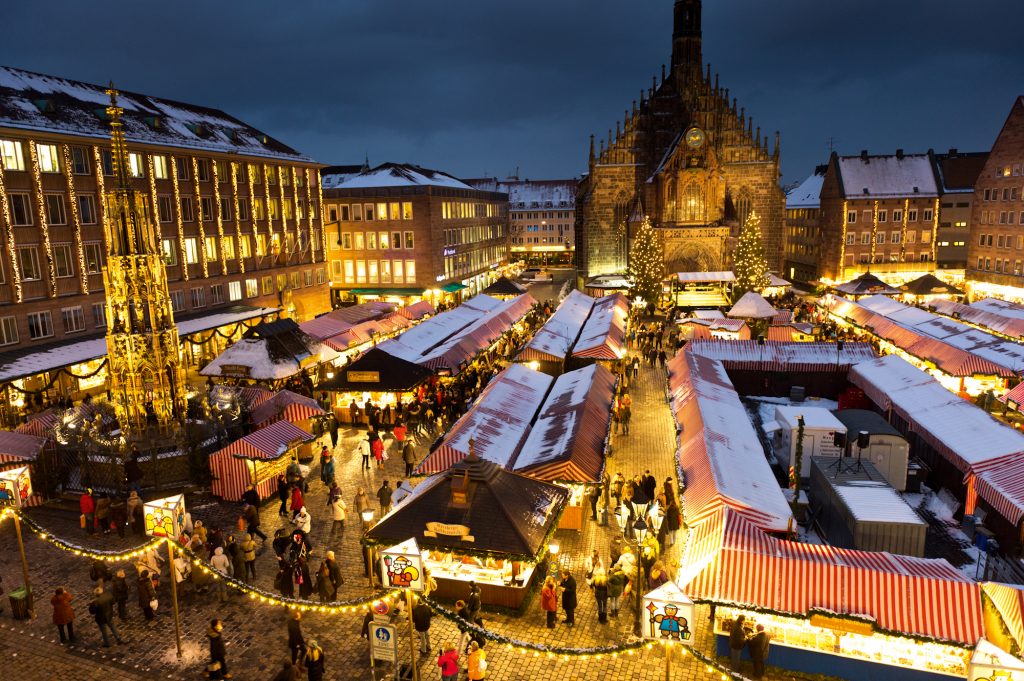 Winterfest Boat Parade – Fort Lauderdale, FL
Maybe the cold weather doesn't appeal to you during the holidays, which is why we suggest this festival on the water in South Florida. Fort Lauderdale's Winterfest Boat Parade, held at the Seminole Hard Rock Hotel & Casino, is called "The Greatest Show on H2O." Almost a million viewers line up along a 12-mile route through Fort Lauderdale's intercoastal waterways, making it one of the largest single-day events in the nation. For those who can't make it in person, the entire event is streamed live online. But we suggest going where its warm!
The Matzo Ball and World's Largest Menorah – New York City
If you're in the city for the holidays, check out the World's Largest Menorah in Prospect Park, Brooklyn. In 1984, Chabad of Park Slope put up a 32-foot menorah in Brooklyn's Grand Army Plaza. Since then, the tradition has grown to include the entire community. A rabbi rides in the bucket of a Con Edison cherry-picker to give light to the grand menorah. Singles can also check out the annual Matzo Ball. Known as the largest Jewish singles event in the nation, the party includes three DJs on two dance floors at 230 Fifth St. When you're not chatting or dancing, you can admire the amazing views of the Chrysler Building and the Empire State Building, or chill out in one of the winter igloo party tents.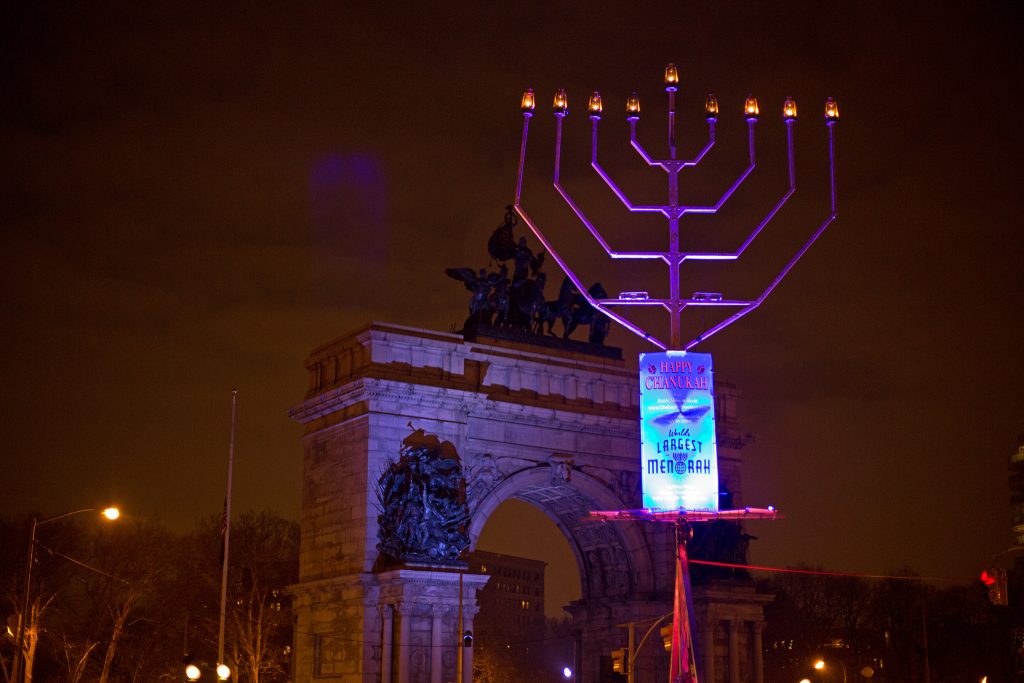 Downtown Holiday Market – Washington, DC
When you're ready to do some shopping outside the four walls of a Best Buy, DC has the festival for you. More than 150 regional vendors set up shop in the nation's capital, selling a variety of hand-crafted and boutique goods, while bands and singers entertain your shopping adventure.
Holiday Festival of Lights – Charleston, SC
One of our favorites, the annual Holiday Festival of Lights takes place at James Island County Park. After driving past the 700 festive displays, families can hop out of the car and ride a holiday train or Victorian carousel, sample treats at Santa's Sweet Shoppe, visit Santa or see gingerbread houses and a giant sand sculpture made from more than 50 tons of sand.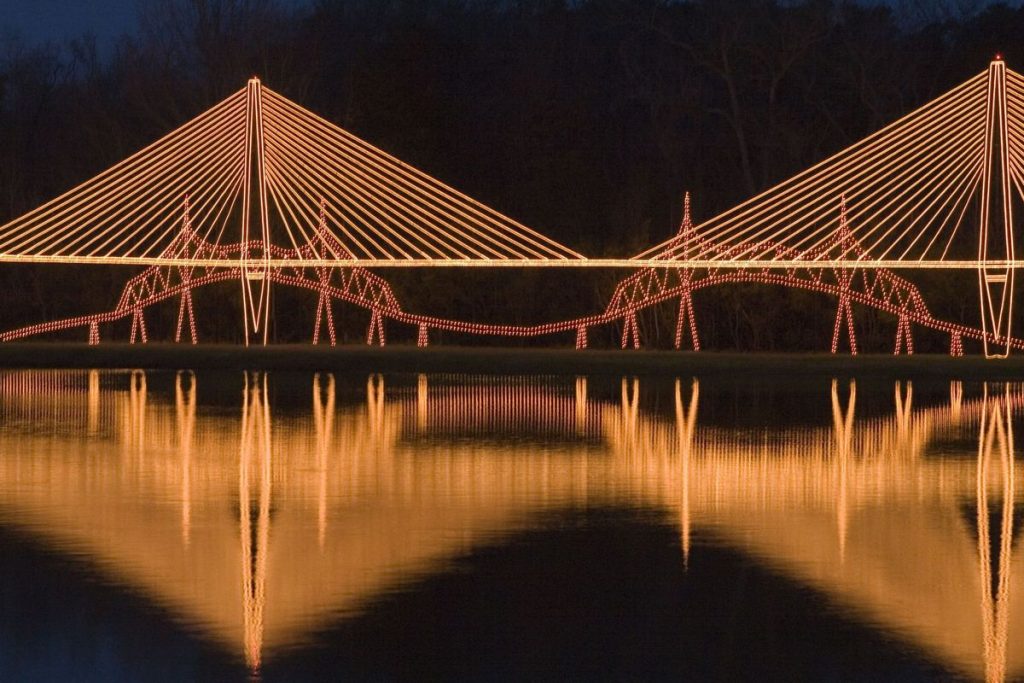 Great Dickens Christmas Fair – San Francisco, CA
If you want to spend your holiday in a simpler time, this festival transports you to the London of Charles Dickens. Several acres of exhibition halls become Victorian-era pubs, streets, alleys and dance halls where guests can watch live entertainment on seven stages, eat on fish 'n' chips and do some holiday shopping. Victorian costumes are encouraged, but not required.
New Year's Celebrations
If you're the type that likes to ring in the New Year, but looking for a unique way to do so, here are some suggestions for continuing the holiday season into 2018 in a fun manner. And since this is a list of unique places, we'll leave out Times Square in NYC!
On the beach in Honolulu, HI
Be one of the first to ring in the New Year by doing it in Hawaii. The city celebrates with fireworks bursting over both Waikiki Beach and the Aloha Tower Marketplace. This is one of the best family friendly New Year's Eve celebrations in America and we suggest toting the kids along for an unforgettable vacation.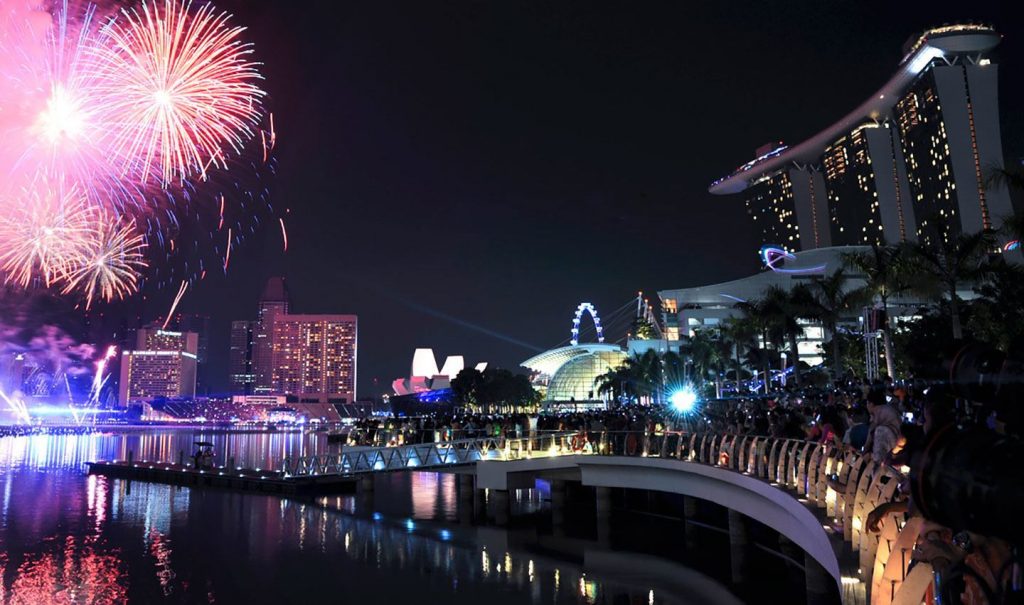 The Portland Champagne Ball – Portland, OR
The Portland Champagne Ball is one of the most famous parties for New Year's and boasts 17 bars, four different themed rooms and 4 dance floors. Expect a hot and cold buffet with deserts, late night pizza, party favors, photo booths, wine and more. Plus, you get to dress up and act fancy when you attend this party!
Jackson Square – New Orleans, LA
Next to Mardi Gras, New Years is one of the best parties in New Orleans. Here they do things a little differently. Jackson Square boasts the biggest party in town featuring live music all night long as well as a fireworks display. Instead of a typical ball drop at midnight, all can watch as the clock strikes midnight and a giant fleur de lis descends from a 25-foot pole on top of a building and the fireworks light up the sky in tune to the music. The party continues on Bourbon Street when the parties and clubs get wild as people party into the wee hours of the morning.
Walt Disney World – Orlando, FL
Disney World of course knows how to throw a big New Year's Eve Party, and that goes for both children and adults! Many of the Disney New Year's Eve experiences are food-based, such as prix-fixe meals at Il Mulino Trattoria and Monsieur Paul, or dining and imbibing while watching the fireworks from California Grill. Other events include a live big band, dancing, and drinks at Atlantic Dance Hall. You can't really go wrong here!
Wherever your holiday travels take you, consider combining your adventure with a travel nursing contract through Coastal Healthcare. Check out our entire list of open positions here, and see if you can get hired for one just in time to celebrate in style.