When you're on the road with your travel nursing assignment and living out of a suitcase, it's all too easy to fall victim to the snack machine at the hospital or, better yet, a quick bite of fast food on your way home after a long shift. But as most well-weathered travel nurses know and have learned, this type of bad-eating behavior quickly leads to bad habits that are hard to break.
By creating and setting healthy eating habits on assignment, you'll improve your lifestyle and look more forward to your on-the-road adventures. Besides, as a nurse – a healthcare professional, you don't want to set a bad example for yourself and others by falling into the trap of junk-food eating when away from home.
You're a nurse. You're used to eating on-the-go. Now, take some of the "positive" eating behaviors you practice when on-the-go at home and apply them to your on-the-road habits.
At the Airport
In addition to packing your tennis shoes and workout gear for your road assignments, it's also wise to pack an apple, orange, trail mix and a bottle of water in your carryon bag as well. You can chug the water before you go through security and then refill it once you're at your gate. Having water and healthy snacks on-hand not only cuts down on the amount of money you'll spend in the airport, but also greatly reduces your risk of feeling the urge to grab a soda and candy bar at the nearest kiosk between the ladies' room and gate-check.

At Your Housing
Maybe the travel part is easy for you. But the hotel stay is the challenge. Never fear. It's not that hard to keep this part of your journey relatively healthy, too.
Sure. It's fun to splurge when on the road, especially if you've heard rave reviews about the barbeque place down the street. But don't indulge in burgers and fries at the hotel bar every night. Make better choices by planning your meals before your days, or weeks, of work on the road begin.
Establish a Routine
When you sit down to eat, are you sitting on the bed in your hotel room watching TV, or would you rather go out to eat at a restaurant? If the latter: Do prefer to sit by yourself at a booth or would you prefer to sit at the bar, where you're more likely to talk with others?
When we are more aware of our intake practices and behaviors, we can get a better handle on our eating shortfalls and make improvements.
If you know, for instance, that you don't like to eat alone, then instead of sitting at a restaurant bar to eat, where you're more likely to consume alcohol and easy-to-order "bar food," invite a coworker to join you for dinner.
Make Wise Menu Choices
If you have to dine out, here are some choices you may consider first, before you opt for nachos or pizza.
Chipotle — Chicken Burrito Bowl with brown rice and beans, no cheese
Chicken and Vegetable Salad, full size
Creamy Mushroom Soup
Grilled Chicken Sandwich
Smoked Turkey Breast Sandwich
Veggie Burger, no mayonnaise
Turkey Breast Sub without cheese, add avocado
Replace cold drinks and wine with lemon water and green tea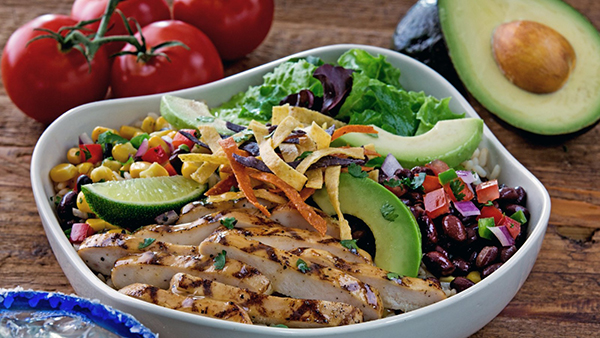 Drink Lots of Water
The body needs water for virtually all of its functions. Drinking plenty of water will flush your body of toxins, keep your skin fresh and help you eat less. It will cut down on a lot of the extra hunger cravings and stress that cause emotional eating.
Establish "Healthy" Friendships
Look around for a networking group, Meet-Up or colleagues from work who are interested in eating healthy. See if you can search for any whole-foods resources in the area. Find out where the farm-to-table restaurants, healthy markets and organic establishments are as well.
Mindful Eating
Try to ensure you make time to eat. That means sitting down to eat a meal, rather than snacks on-the-go. Breathe in between bites. Allow the body to taste, experience, smell, notice, feel and digest the food. Pay attention to the meal. Express gratitude for the nutrients, for those who created the meal, and for the food preparation and shipment process itself. Bring awareness to your intake so that you experience the meal and can tell when you are full.
Are you ready to build healthier eating habits into your 2018 travel nursing plan? Check out all our travel nursing opportunities here and pick your next destination! Wherever it is, its up to you to make it a healthy one!