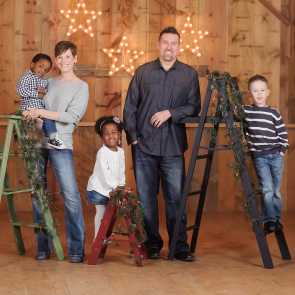 As Christmas quickly approaches, we wanted to take a moment to wish you and your family a very Merry Christmas & Happy Holiday Season.  It is our wish for each and every one of you despite all the hectic work schedules,  festive decorating, exciting parties, insane traffic and endless shopping, that you get an opportunity to pause…enjoy the time spent with family and loved ones…and reflect on the true meaning of Christmas and the reason for the season.  It is in this spirit that Coastal would like to share with you what we, as a company, are doing in lieu of sending out individual gifts for Christmas this year.
Anyone that has been a part of this Coastal family for some time knows that we care deeply for our office staff, extended family and each of you.  When we learned that one of our own was in need, we simply could not miss the opportunity to help.  Amanda McDowell, registered nurse, wife and mother of three shared her unforgettable story with us.  The McDowell family adopted their daughter Adaya from Ethiopia in 2013 as their third child and second adoption to complete this loving family of five.  Approximately three weeks ago, Adaya was taken to the doctor with "flu-like" symptoms.  Shortly thereafter Adaya fell into a coma and was transferred to MUSC.  Since Adaya's transfer to Charleston, Amanda, her husband Rob, their sons Jase and Kamden have been back and forth between their home and Charleston to care for and support her.
We at Coastal have chosen to "adopt" this family for Christmas and try to assist with some of their needs in hopes of bringing joy to what is an understandably difficult time for them.  If you would like to read Amanda's testimony on how her family came together, you can find it at: http://www.love-like-him.com/single-post/2015/02/02/The-McDowells .  We ask that you remember this family in your prayers this holiday season.  If you would like to participate with us in sending fuel cards and pre-paid VISA cards for food, you can send them here to the office at 700 S. Parker Drive, Suite 7 Florence, SC 29502.  We ask that anyone planning to do so have this to us by Dec. 21st as we will be delivering these in addition to clothes and gifts on the 22nd.
In closing, we want you to know that you are appreciated and you are each part of what makes Coastal such a great company.  As we eagerly anticipate 2017 being our best year yet, we wanted to reach out and thank you for being a part of this Coastal Family as we continue to grow.  Once again, we wish you and your family a Merry Christmas and Happy New Year.
Warmest Regards,
Coastal Healthcare Resources Team