You may recognize Kay Epi Slane as a seasoned traveler, travel nurse mentor, established author, and so much more.  We have known Kay for many years. Coastal Healthcare Resources partners with her website and get copies of her bi-annual book release, Highway Hypodermics.
Her guide to travel nursing is a tremendous resource recommended by numerous websites, blogs and other social media influencers.  She is also a member of the National Travelers Conference in Las Vegas that is celebrating 10 years this year.
Kay still somehow finds the time to run several Facebook groups dedicated to best practices and mentoring for new and seasoned travel healthcare professionals. Kay and her husband John travel the country in their RV while she is on assignments, writing and being an ambassador for positive change in the staffing industry.  Our CEO, Lanora Morris, was one of her first mentors for travel nursing. This year we celebrated her 50th birthday and took the opportunity to get to know Kay a little better with a pop-quiz interview.
How long have you been a nurse & why did you choose nursing?  I couldn't decide whether or not to be nurse or a teacher, so I went to school for 4 years and received a Bachelor's in Science Education. I couldn't find the exact job that I wanted; therefore, I went to work as a C.N.A. and in two years, I was a licensed nurse . That was 25 years ago. I have traveled the last 14 years, with my husband.
What drives you to be a mentor for this industry?  The biggest thing that bothers me in this industry is the lack of honesty and integrity with both travel nurses and agencies.  Trust on either side is not easily gained.  The fact is, we should be working together and not against other.  It became my passion to help travelers know exactly what is expected out of them by the agencies, and I also do workshops for travel companies to teach them what travelers want in a recruiter and company.
Favorite memory of your travels: My favorite memories is all the "winter vacations" that we have gotten to have with my parents.  My daddy asks me every winter, "Where am I going on vacation this year."  Second best would be when my recruiters, Debbie, Denise, and Lanora brought Thanksgiving dinner to us in Myrtle Beach.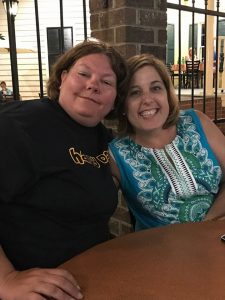 What is your favorite food and where is the BEST you have had of that food?  My favorite food is Italian, the best that I have ever had (besides home), was at a little place in Hemet, CA.  It was made by real Italians, and we went there several times!  I also love Mexican and the best that I ever had is at Abuelo's at the Beach.   The best story though is our Chinese story. We made a wrong turn in San Jose back in 2004 and ended up eating lunch at the Mandarin Gourmet.  After 13 years, we just went back and actually found the place in 2017. The best Seafood we found in Pismo Beach.  They had a seafood supper with shrimp, crab, and lobster to die for. Can't leave out German food…  OMG! The best is in a little town called Ben Loman just north of Felton, CA. Just a little "house" restaurant where the food just melts in your mouth. I guess that I don't have a favorite… we are just foodies.
How many states have you completed travel assignments in? 14, Arizona, California, Oklahoma, Mississippi, Iowa, Florida, Tennessee, Washington (state), Oregon, South Carolina, Texas, North Dakota, Southern California, & Norther Carolina.
How many countries have you worked in or visited?  I have visited Mexico (Cancun, Cabo, Puerto Vallarta, Mazatlan, & Acapulco) & Canada (Winnipeg, Vancouver, Victory).  I have not worked in a foreign country.
Who are a few people that have inspired and/or mentored you in your travel journey? Wow, that is a tough question, there are so many out there who have touched my career in a positive way.  Lanora Morris, was probably the first big mentor.  She and I became fast friends after my first book came out, and she really helped me promote the book and encouraged me to write the second version. Debby Mays & Denise Stephens for allowing me to spend 2 days at the office with them just to learn about the recruiter and account manager side of things.  All the companies/advertisers who have allowed me to come into their office and do a presentation on, "What Nurses Want in a Recruiter." I also have to thank my fellow Travelers Conference Board members (Phil, Michelle, Joseph, and Cynthia) who have not only accepted me as a part of an amazing group, but have allowed me to bounce ideas off of them.
What do you consider to be one thing people would be surprised to know about Kay Epi Slane? I paid my way through college waiting tables, working in the library, working as a chemistry lab assistant, and a radio "disc Jockey." And yes, we used real 45s.  In fact, I was also the radio station program director for 1 year and the station manager for 2 years.
What do you think about Facebook recruiting and travel forums online? I think that it is good that you can connect with your recruiter online and see what they are really like.  I think that it is very hard for a recruiter to know where to post and where not to post. Do we really have recruiter etiquette?  Can they just contact anyone that they see online? I personally think that for Facebook/Twitter, a recruiter needs to answer questions in a forum or groups and let travelers come to them as someone they trust and consider competent. The cold call style PMs are just as annoying as cold calls.
If there was 1 thing could change in the travel healthcare industry across the board, what would it be?   Wished there was a spot on the Joint Commission's Staffing Certificate that states, "Gets along and plays well with others."
What was the first career you wanted as a child? I really wanted to be a paramedic just like Johnny Gage and Roy Desoto and work at Rampart – Engine 51 en route…  KMG365
Favorite Quote? "Along with fairways of life, you must stop and smell the roses, because you only get to play one round."  (Ben Hogan)
Your biggest Pet Peeve? My biggest pet peeve is when new travel nurses try to help another newbie by giving them false information.  I really wished that there was a magic wand to erase all myths, starting with the 50-mile rule.
Are there any "bucket list" destinations you still want to visit or work in?  I really want to go to the Northeast.  I have never been in Pennsylvania and beyond.  And of course, Hawaii and Alaska.
After all these years in nursing and with all of your accomplishments, what are you still looking forward to doing before you retire? I've got all kinds of educational tools that I'm working on for the traveling healthcare industry.  I just want to get them all completed so that I can work towards retirement.
What hobbies do you have outside of Writing, Travel, Mentoring?   Golf Therapy! I must participate at least once a week. We also love to spend time out time out at the lake, and on occasion, I even find time to quilt.
What is your favorite color? RAINBOW!  And purple.
Favorite animal? Most definitely my kitties, but I've also had a dream of having my own horse.
Names of your pets? Mila (Siamese) and Skitzo (Black), my neighbor and I found both in her attic back in 2010 & 2011.  Have no double that Skitzo is Mila's brother's kitten.  Now we have Skitz and Auntie Mila.
What is your favorite memory with John? This is g-rated, right?  Actually just the memories of all of our adventures during the past 20 years.  If it wasn't for him, I wouldn't be the nurse, the author, the travel nursing leader, and the wife, that I am today.
Where is "home?" Where do you think you will retire to?  We have a nice little home in southern Idaho that we just love (house & community). We really can't see ourselves moving anywhere else. In fact, we just bought a little piece of lake property in the area.  We will spend our summers out at the lake and our winters in town.