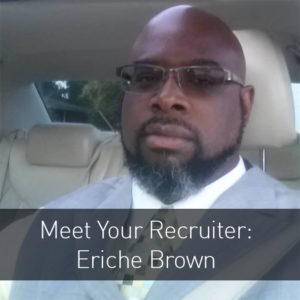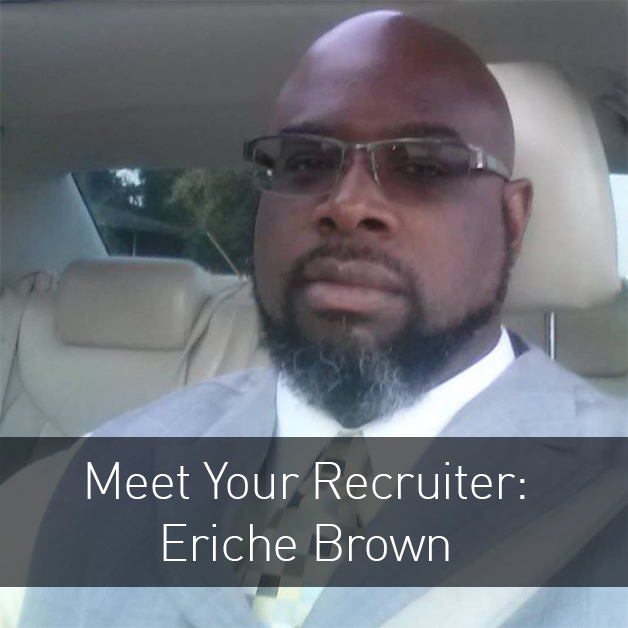 When you work for Coastal Healthcare, you are partnering with a dedicated team of recruiters and support staff that care about you and helping you advance your career. We also know what an adventure travel nursing can be, so we work to provide you with the exciting lifestyle you demand along with the best jobs and benefits to support that.
As our company continues to grow, we are constantly adding new, talented recruiters that are eager to begin working with you.
To get to know them better, we are going to be featuring them in our articles so can learn more about what makes them tick and see what you have in common. We know it's important for you to have an established relationship with your recruiter – this is first step!
Eriche Brown
What is your favorite childhood memory?  Growing up in Summerville/Charleston SC area and being around all of the rich heritage that those areas have to offer.  My parents made sure my brothers and I enjoyed our childhood.
What is at the top of your bucket list?  To see Africa.
Who was your first celebrity crush?  I can't remember if it was Janet Jackson, Molly Ringwald, Valerie Bertinelli, Pam Grier, Catherine Bach (Daisy Diuke) or Jayne Kennedy! LOL!
Who had the most significant impact on your life? During a time when divorce was becoming common place, my father and mother persevered.  Having them together till the day my father died from cancer was most important to me.  I leaned everything I know about life and survival from them and am forever grateful!
What is the best compliment you ever received?  "You didn't know this, but I modeled myself after you because I didn't have a male figure to emulate.  Thank you for being you!"  Lesson learned…. when you don't think people are watching…… they are!
The one thing you know now that you wish you had known as a kid?  That 10 times out of 10, my parents knew what they were talking about. LOL!  #letmegetanotherchance
On a scale of 1-10 with 10 being the highest and 1 being the lowest, rate your driving skills:  It's pretty much a 10 unless I start channeling Bo and Luke Duke, then it's about a 15!
Describe yourself in a single sentence: "I don't believe in "No Win" situations!"
Are you a fan of any sports team? The Dallas Cowboys aka "America's Team!"
What is your favorite way to pass the time? Either getting some gym time in or shooting basketball with my son when he lets me! LOL!
Name one interesting or unique fact about yourself:  I was the youngest to ever reach Staff Sgt. at that time on Charleston AFB.
Check out our list of open positions here, and contact Eriche if you find one that suits you!
1-866-877-2762 (Office)
1-866-992-7144 (Fax)